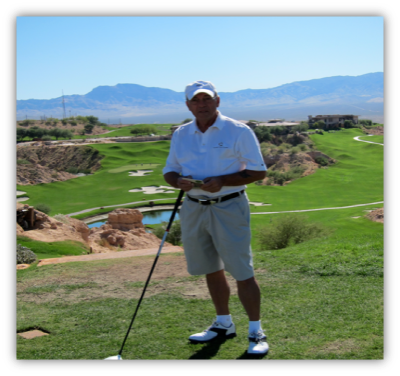 Lee Embley, Founder of Golf Beats Cancer's Links to More Good Days
On July 6th, 2015 I was diagnosed with stage-four lung cancer, a diagnosis that typically has a life expectancy of 6-12 months.
Prior to my diagnosis I was living a productive and active lifestyle, and considered myself in good shape physically as someone who has been an active golfer for many years.
I played the game for all the typical reasons; the challenge, improving my skills, lowering my score, spending time with friends, and socializing.  I loved the complexity of the sport. It's a mind and body game. Little did I know, the game I love would end up helping me beat the effects of cancer treatment…and live longer.
Chemo kills, mind body and spirit.
Before my first chemo treatment my oncologist told me that my chances of survival depend on my ability to get through the entire six-month chemotherapy treatment. I was getting the highest dose of chemo's cancer killing drugs out there.  
The oncologist's message was clear: find a way to manage the adverse effects of treatments to give the drugs time to work, and hope for new sciences to be developed.
Chemo takes a direct assault on the mind, body and spirit. Your body is ravaged by weight loss, muscle loss and constant fatigue. Your spirit is crushed as the realities challenge faith, hopefulness and optimism. The effects of chemo make food and hydration intake a challenge, you just can't eat. Lack of nutrition, hydration, and lack of activity is the black hole you begin to slide into. You are so weakened, your resolve to continue to fight is but one more instance away.
After being diagnosed I needed to find anything to help me get through the treatments. I was experiencing all of the dreaded effects, and I was desperate for answers and a solution.
So I looked into Cancer care and support teams, which do provide help. The doctors prescribe meds for some side effects, and they are very helpful. Nutritionists advise what you might eat, counselors are assigned for the emotional lifestyle impacts, and stress methods, such as music therapy and art therapy are all available.
When it came to the available therapy options, they had merit and clear benefits but they were fragmented, inconsistent and episodic. There was no sense of coherency as a wellness strategy.
So I really thought about it, and knew what I needed was to develop my own wellness and wellbeing strategy, something I could immerse into that would provide me with a coherent wellness system that encompassed everything from physical activity, to nutrition, hydration, emotional support, fun, and an escape.
The gym came to mind, but I hated the idea of going to the gym, and being the old guy on a treadmill walking at 2 miles an hour, while some 22 year old flat belly gazelle breaks the land-speed record next to me…
I needed an escape plan from the conventional exercise modality, and some time on the treadmill wasn't going to cut it.
Other activities like swimming, hiking, and dancing all had some basic aerobic benefits, but lacked the lifestyle aspect that would enable me to plug in on my time and capability.
The realization golf might work as an escape from the fear and anxiety that occupies 80% of my thoughts, and the recognition that it was up to me, and me alone to take action for my own self care came as a welcomed surprise.  
Finding "Links To More Good Days"…
What I found was I could get my basic wellness goals on the golf course. I believed my key was to get and stay active and I had a very specific metric in mind. If I could get 10,000 steps a day I could trigger a wellness sequence. 
Tangible Metrics
Activity would prompt thirst triggers for better hydration, exercise would dissipate stress and mitigate effects of fatigue. The energy burn from the "walk" would likely increase my ability to eat, and take in much needed protein. With the combination of activity, nutrition and hydration I would likely be able to get my sleep into REM state. Knowing that golf could help me get through the tough days felt like a blessing.
Escape to a Wellness State
So I got going… Walking the golf course was a challenge, as I could only get in nine holes, but I got close to my 10,000 steps goal. I also got creative. I would develop little challenges along with the landscape changes as the terrain offered an opportunity to increase my heart rate through the changes in incline levels. So I'd pick a hole with a hill, and challenge myself to make it to the top, without stopping, and record my heart rate recover time. Over time, I got stronger, and the trek up the hill got easier.
Nature Heals
I became fully aware I was in a natural setting, the change of seasons, abundant wildlife, all set in a manicured park like environment. I was extracting benefits of eco-therapy, the physiological and psychological effects of being in nature. Eco-therapy increases endorphins, creating a euphoric response involving dissipating stress, and the increase in sunlight produced Vitamin D. The chemical release Dopamine, which is a neurotransmitter, kills pain, and adds pleasure responses to the experience.
Mindfulness
The walk on the links provided a form of moving meditations similar to Tai Chi, bringing a level of relaxation and calmness as I worked through my treatment. I could feel my body opening up and it felt great as I strengthened my core, promoting balance and boosting my energy. Finding spots of awe in the golf landscape taking in the beauty was like a yoga moment; inhale, and exhale. Making shots required visualization and imagination, which sparked creativity, and problem solving, giving the brain some exercise with brainteasers. So it's needless to say, putting on the green became my mindfulness experience.
Hope and Positivity
 The combination of hope and positivity creates a context for positive psychology, reinforcing the belief system and renewing resolve. The therapy I was experiencing on the course was expanded by the social construct of the golf experience. What I experienced both surprised and delighted me.
Highly Social
As my diagnosis became known to club members, most of which I did not know all that well, they came to me with warmth and support. I discovered many of them fought the same fight I was facing and instant friendship happened regularly. Their support was authentic, it was support without sympathy because they understood my condition, but still wanted to take my five dollars on the Sunday Match play. Golf became a complete ecosystem for wellness and wellbeing, giving me the drive to not only compete on the course, but to also compete against cancer… and win.
Golf Buddies
Little did the other golfers know, the role these men and women were playing was key to my sustained effort in coming out of this battle on top.  Friends became motivators, they would call, email, text, and encourage me to play 9 often, despite how I was feeling from treatment. They pushed me more than I ever thought another person could, and I am forever grateful for that.
The competition fueled me; it triggered my intrinsic motivations, and made the five dollar bet seem like a million dollar challenge.
I was immersed in it, experiencing a complete ecology of wellness and wellbeing. I was coping with chemo treatments, and managing my moments successfully. I was eager to get on the golf course as therapy, as I knew the "walk" was my chance to live longer. 
The golf course became like a spa experience, as I absorbed the natural attributes and benefits it offered up every day I could be there. Most important, I was taking ownership of my own self-care.
Golf As A Wellness Process: GBC's Links to More Good Days Program
Needless to say, it is now two years since that awful day I was diagnosed. The six to twelve month prognosis is now a five-year strategy, and far more hopeful. Of course, cancer treatments continue to get better almost every day, and I am a direct beneficiary of the science. The key is to live long enough so the scientist can find a cure. It's about making it from one gap phase to the next. What I discovered was golf was so much more than I ever imagined. It's a game that can be deconstructed to whatever capacity the player has. It's a Fountain of Youth, an idyllic option for cancer patients.
As therapy, golf is perfectly ideal; a completely sustainable therapy and recovery system. With a short game introduction through our program Golf Beats Cancer, clinic patients can learn to putt, chip, pitch putt, and play games to help with improving energy, balance, and cognition. As a recovery method, golf helps patients gain strength, flexibility, while increasing endurance.
Some days all I could do was putt, and maybe walk a couple of holes with my wife. I used my down days to go deeper into mindfulness, putting becomes a perfect metaphor for being in the moment, and it's a complete golf movement.
 The walk can be a single hole, or any combination that works for the patient's capacity on that given day.
The social side of the game has an army of cancer survivors who are willing to be recruited as "Golf Buddies" to support, motivate and engage patients (Players) outside of the learning clinics. Hundreds of millions of dollars are raised annually by cancer charities, via golf tournaments. The golf community has a long history of the fight against cancer. 
Asking the golf community to now become an extension of cancer care and an alternative to traditional therapy is recognition of just how important and impactful the game of golf is on wellness and wellbeing.